Mile-by-Mile Whitewater Rafting Guide for the Upper Klamath
The following mile-by-mile guide provides the approximate river mileage's and difficulty of each rapid starting from John C. Boyle Powerhouse. Descriptions and hazards are provided only for the most difficult rapids.
Mile 0: Put-in John C. Boyle Powerhouse
Mile 1.0: Osprey Rapid (class III)
Mile 2.1: Gunslinger (class II+)
Mile 2.5: Alternate River Access- BLM Campground on river right
Mile 3.8: Old Hooch (Class II+)
Mile 4.5: Blue Heron Riffle (class II)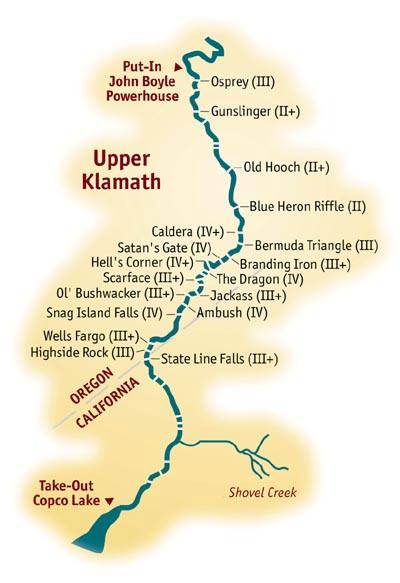 Mile 5.5: Frain Ranch on river right, good side hike.
Mile 5.7:Caldera (class IV+); Scout this rapid from either bank. This 100 yard, boulder choked chute is best run down the left side but watch out for the big hole up top. Make sure everyone in the raft knows how to hold on well...this could be a devastating swim.
Mile 5.9: Bermuda Triangle (class III).
Mile 6.1: Branding Iron (class III+)
Mile 6.3: Satans Gate (class IV); The river turns hard to the right into a boulder slalom with steep drops. Eddy out at the bottom on river left to scout Hells Corner.
Images courtesy of All-Outdoors California Whitewater Rafting
Mile 7.2: "Hell's Corner (class IV+); Walk the entire length of this sinuous 600 yard rapid before you run it. Watch out for the submerged rock about 15 yards off the the right bank near the top of the rapid. The river bends first left, then back to the right, but the current sweeps boats left toward impassable boulders. Boaters try and stay right and catch an eddy before the river swings left again into it's final drop, called the Dragon."
Mile 7.3: The Dragon (class IV); Two submerged rocks at the bottom create the teeth of the Dragon.
Mile 7.5: Scarface (III+).
Mile 8.2: Ambush (class IV); The river turns right and leads into several wrap rocks blocking the left and center. Scout from river right.
Mile 9.9: Snag Island Falls (class IV); Hug the left side of the right channel as the river splits around an island. The right side is an unrunnable rock sieve.
Mile 12: State Line Falls (class III+); Rafts usually run the glassy pour-over just left of center...its more forgiving than it looks.
Mile 13.8: Shovel Creek enters on river left.
Mile 17: Take-out - Copco Lake Store (take-out fees required)
Excerpted from California Whitewater by Jim Cassady and Fryar Calhoun