Shuttle Directions for Whitewater Rafting on the Upper Klamath
The shuttles for the Upper Klamath are slow and very long. When planning your whitewater rafting trip allow the shuttle to take at least 2 hours. Your best bet is set the shuttle the night before and camp at Topsy Campground near the put-in. The following shuttle directions all originate from Hornbrook, CA just east of Interstate 5. Shuttle Directions were provided by All-Outdoors California Whitewater Rafting in conjunction with a Rand McNally Road Atlas.
Copco Lake Take-out
From Hornbrook head east 3 miles and turn right across the river. Drive another 4 miles to Ager and turn left onto Ager-Beswick Rd and follow it for about 15 miles. Cross the bridge and turn left, Copco Store (fee required) is the take-out. Park out of the way, ask inside. You can take Copco Road all the way to put-in but it is not recommended, unless you have a high clearance 4-wheel drive vehicle.
After Dropping the take-out vehicles drive back to Hornbrook the way you came in and fill up the gas tank before you head to put-in. Gas Stations are few and far between so it might be a good idea to top off the tank when you get the chance.
John.C Boyle Power Plant Put-In
From Hornbrook, take I-5 north to the Ashland exit, Route 66 east. There is a Chevron station here so check your gas gauge. Take Route 66 a winding, tortuous 42 miles to the J.C. Boyle Power Plant turnoff and follow the dirt road 5 miles to the marked put-in, just past the power plant. It is not advised to drive your vehicle down the last 50 yards or so of road, consider carrying the gear down to the river.
"There is another route... continue upstream on Ager-Beswick Road, which becomes Topsy Road... but it is very rough and slow and definitely not recommended."
Excerpted from California Whitewater by Jim Cassady & Fryar Calhoun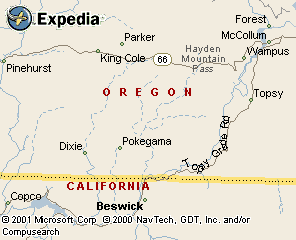 maps.expedia.com