Whitewater Rafting on the Lower Klamath River
The Lower Klamath is located in the northwest corner of California, about 2 hours east of Eureka off of Hwy 96.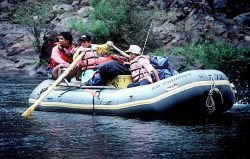 The Lower Klamath is one of the most scenic whitewater rafting trips in California. Fun Class II - III rapids are interspersed between calm warm pools; excellent for swimming. Take your time and enjoy the many side hikes the river has to offer with beautiful cascading waterfalls and Gold Rush history.
Images courtesy of All-Outdoors California Whitewater Rafting
This portion of www.klamath-river.com provides logistical information for whitewater rafting on the Lower Klamath River from Happy Camp to Dillon Creek . Along this stretch of river there are plenty of choice camping spots that are easily accessible from Hwy 96. The mile-by-mile guide provides approximate mileage and level of difficulty for each rapid. The Klamath usually has consistent flows April through October with possible whitewater rafting year round.>
General Information
Put-In: Happy Camp (Curly Jack Campground)
Difficulty: Class III
Length: 22.7 miles
Season: Year Round
Gradient: 15 feet per mile overall
Elevation at Put In: 1100'
Elevation at Take-out: 700'
Runnable Levels: 300/500 to 20000 cfs
Take-out:Dillon Creek Campground