Shuttle Directions for Whitewater Rafting on the Klamath River
The Klamath River is located off of Highway 96. This highway follows the Klamath river almost the entire way so access points to the river are plentiful. The shuttle directions are pretty straight forward. The best way to run this shuttle is to take the southern route so you head north on 96, drop the take-out vehicles then continue north on 96 to put-in.
Happy Camp to Dillon Creek Shuttle Directions
The easiest route from the Sacramento Area is take I-5 north to Redding, Then west on Hwy 299 toward Arcata. Head north at Willow Creek, onto Hwy 96. Drive another 83 miles to Happy Camp and follow the signs to Curly Jack Campground. From the Bay Area travel Hwy 101 north to Hwy 299 above Arcata, turn east on 299 to Willow Creek, turn left on Hwy 96 to Happy Camp.
For a detailed list of access points, visit the
Klamath National Forest River Access Page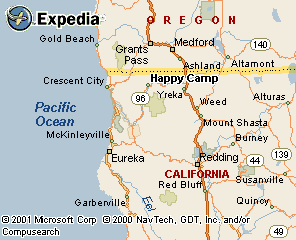 maps.expedia.com